Although it will be a couple of years before Denver area residents and visitors can enjoy the newest edition to the Denver Public Library system, the new library location has been selected. The Denver Library Commission voted unanimously to build the new library on West Colfax Avenue at Irving Street. The new library should be a welcome addition to the list of fun places for kids in Denver.
(For those of you non-Denverites familiar with Colfax Avenue's seedy reputation, keep in mind that, that is in reference to a very specific (and short) stretch of East Colfax Avenue, and that reputation is significantly overblown. This location is west of downtown Denver. )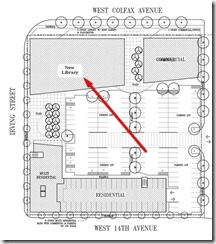 The new library location was selected to help fill in the sizable gap between the Woodbury Library and Barnum Library branches on the western side of Denver. The library's funding comes from the 2007 Better Denver Bond Program which Denver voters approved to help fund a whole slew of capital construction projects. The bonds were designated both for the construction of new libraries and the remodeling and retrofitting of existing libraries, some of which where aging dangerously past current building safety and code standards.
Although Denver Library hours have been cut drastically due to budget cuts, the commission felt that the service need for the new facility outweighed the drag of additional costs.
Free Events For Kids Denver Area
The Denver Library system doesn't have as many free activities for kids as it used to, but still offers plenty of fun summer programs for children in Denver. The Summer of Reading Program is underway, which is a great incentive to get kids to read over the summer vacation holiday.
In addition, story time and story hour is still on at most library branches. Story time at the downtown library comes in multiple flavors that are age-based story readings for kids at the library. There is Book Babies for infants, Tales for Twos for that in between age, and Tot Tales for older children.
There are also fun upcoming events for adults in Denver as well, including a Bike Mechanic course seminar held at the Central Library branch downtown. Sundays, June 27 and July 25, 1-3 p.m.
See the Denver Library website for more details.