Celestial Seasonings is one of the largest tea makers in North America. It was merged (bought out) into the Hain Celestial Group in 2000. However, all the Celestial Seasonings teas are still made in the original factory near Boulder, Colorado.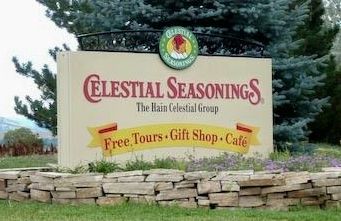 There are free tours of Celestial Seasonings every day except major holidays. Tours leave on the hour and are first-come first serve. If you go during the week, you can usually just walk up and get on the next tour. On weekends, that may not be the case. The best way to avoid having to wait too long for your Celestial Seasonings tour is to show up near the half hour. That is, if you want to take the 11:00 am tour, show up before 10:30 am. Also, the people who missed the previous tour builds up as the day goes on, so if you get there early, you'll be less likely to have to wait.
Go past the Tea Shop (gift shop) and straight to the tour desk to put your name down on the list. The tour ends in the Tea Shop, so don't worry, you won't miss it.
Celestial Seasonings Sampling
Once you have signed up for the tour, they will give you a cup and you can sample their teas. The tour desk is in the sampling room. There are five or six teas already sitting there ready for tasting (plus usually two around the other end of the counter that are iced teas). However, those aren't the only teas you can sample. To sample other teas, you simply ask the workers behind the counter. They'll pour some hot water into your tea cup and put in a bag. That way you can sample almost all of the Celestial Seasonings tea varieties.
Check out my review of Credit Karma here.
Free Celestial Seasonings Tour
They'll announce the tour in the Celestial Seasoning taste test area. The tour starts with a 10 minute video about the company and a little of its history. Then, they pass out the hair nets. Since the tour goes through the actual production facility, all visitors have to follow health code rules including full hair nets. For super fun, and ridiculous pictures, visitors with beards have to wear beard nets as well.
The tour guides are generally pretty knowledgeable, so feel free to answer questions. The first stop is a look through the window into the Milling Room where they actually sift and chop the various ingredients that go into the tea.
Next up is a look at the large bins those ingredients are stored in. Then, there is a look into the Tea Room. As it turns out, the three most popular Celestial Seasonings teas have no tea in them at all. They are Sleepytime, Chamomile, and Peppermint. They are called Herbal Teas mostly because the public didn't understand earlier names like "infusions."
However, many of the varieties do contain actual tea. And tea, is absorptive. That means that if they left it out on the main floor with other ingredients it would absorb those flavors and smells. The fun part for tour takers is that the tea room smells wonderful since it is a closed room with no ventilation.
Mint, it turns out, is the opposite. Mint is invasive, giving off its flavor and smell to other things.As the tour guide says, if they left the mint out in the main area, they would have 80 varieties of mint tea. It seems that some people can handle strong mint smell, and others can't. If you can, be sure to stand in the mint room. Your nasal passages will never be clearer. (Mint pulls water out of your body, so you'll also be thirsty when you are done with the tour.)
Finally, the tour goes to the packaging area. It's everything you would hope for in a modern manufacturing facility. Automated machines, robot arms, and conveyor belts rushing boxes of tea by.
The tour ends in the Tea Shop, which is a great little shop with tons of great little gifts in addition to most (if not all) Celestial Seasonings teas.
Celestial Seasonings Fast Lane
While you are in the Tea Shop look for the Fast Lane tea. Currently, it has a picture of three flying superhero types on the box. Fast Lane has more caffeine than a cup of coffee. The company claims that it is a smoother, more natural caffeine than others as well.
If you can't remember ever seeing it on the shelf, you aren't wrong. Fast Lane is sold on the CU Boulder Campus, in nearby Boulder, Colorado. According to the tour guide, they've canceled that variety a few times, and every time, they call up and beg them to bring it back. A high-caffeine tea isn't really what Celestial Seasonings is known for, so you can only get it on campus, or order it online. Of course, you can also get it straight from the manufacturer by buying it in the Tea Shop.
Getting There
The Celestial Seasonings manufacturing plant is just outside of Boulder, Colorado off of the Diagonal Highway (runs between Boulder and Longmont) and Jay Road. While you could theoretically get to there via public transportation, that would take a lot of time and effort. A cab ride from Denver (and maybe even Boulder) would be very expensive. So, this is a Denver day-trip that you'll need a car to get to.
Don't worry, there is plenty of free parking, and traffic is an non-issue unless it's rush hour, or there is a major event like the Bolder Boulder or a CU football home game.