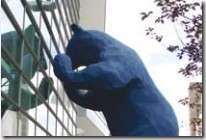 The City of Denver has an ambitious public art program. Initiated more than a decade ago, the City and County of Denver public arts program requires that all construction and infrastructure projects over a certain dollar amount set aside one percent of the overall budget in order to purchase and erect public art around the city. An unforeseen consequence of the 1% to public art rule has been the creation of some enormous public works of art as developers sought to fulfill the city mandate with a single piece of sculpture or other outdoor art. The result is a city full of large public sculptures that may be viewed for free around the city.
Free Art for Families, Visitors, and Tourists
The City of Denver offers a Guide to Public Art to help families find and see free artworks to help inspire children and adults alike while also providing fun free stuff to do in Denver. Visitors and tourists will be equally impressed by the wide variety of free sites to see in Denver. Seeing all of the public works of art in Denver could be a whole day itinerary for travelers to Denver looking for some fun, free, sightseeing in the city.
Free Sites To See In Denver – Art
The best known public art sculpture in Denver has become the city's unofficial mascot. The giant blue bear looking through the windows into the Denver Convention Center appears to be leaning on the glass wall of windows trying to get a peak inside at the events happening in the Convention Center.
The official name of the big blue bear at the Convention Center sculpture is I See What You Mean, a title just as playful as the enormous bear sculpture.  The street the blue bear sculpture is on is 14th Street outside of the main entrance of the Denver Convention Center. Of course, the bear can be viewed from the outside of the Convention Center by passers by walking down 14th St. or even by those in cars driving by. (Open your sunroof or moon roof for an even better view as you drive by. Just pay attention to the road and don't get into any accidents.)
Other well known public sculptures in Downtown Denver are the giant dancers outside of the Denver Performing Arts Complex along Speer Boulevard, and the horse on the giant red chair outside of the Denver Public Library downtown branch and easily seen from the north entrance of the Denver Art Museum. These Denver landmarks are titled Dancers, and The Yearling, respectively.
For more information on Denver's public art get a copy of the Downtown Guide to Denver Artwork.