Update: Funtastic Fun is closed permanently. The owner opened a new place called Lollipop Park inside of the South Suburban Rec center in Centennial. Some of the rides were reinstalled there.
There is no shortage of fun places to take kids to in Denver. A plethora of cultural attractions awaits in Downtown Denver, everything from the Denver Zoo to the Denver Art Museum, to the Children's Museum, the Denver Mint, and more. If cultural or educational places aren't what you are going for, there is always Elitch Gardens amusement park in Denver. But, what if you are looking for a fun outing around Denver for children that has rides and games, but is also indoors?
Denver's Indoor Amusement Park Funtastic Fun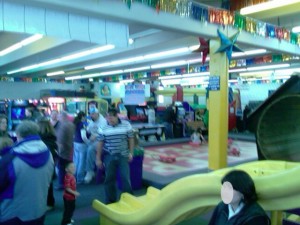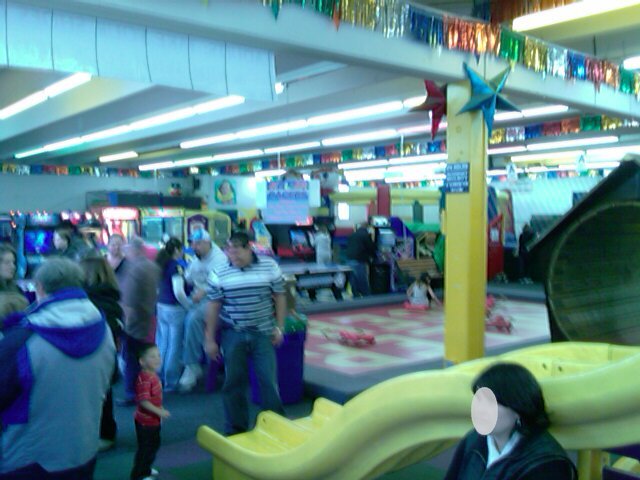 Funtastic Fun is an indoor kids amusement park. Located on Broadway just south of Denver in Englewood, Funtastic Fun provides a place for kids to run around, act crazy, and ride on some carnival rides.
Good parenting skills require being constantly on the lookout for new, fun places to take your children. After all, the usual stuff runs out pretty quickly and kids get bored fast these days.
A drive up South Broadway on the way into downtown might have parents noticing an indoor carnival looking place on the east side of Broadway. Curiousity about Funtastic Fun might lead to a new place to take kids to play inside.
Funtastic Fun is located in a large building with big windows designed both to let in light, and to show off the rides and attractions inside to passing families driving by. Visible from the road are a Ferris wheel and a train, suggesting great laughs and fun times inside. Yet, Funtastic Fun also looks exactly like that kind of place that seems good from the outside, but inside might be a little old and busted. Fortunately, that is not the case here.
This Denver indoor amusement park consists of a handful of carnival rides including the Ferris Wheel and train, as well as a "Whip It" ride, and a teacup ride reminiscent of the teacup rides at amusement parks like Disneyland, Disneyworld, and even local Denver amusement park, Six Flags Elitch Gardens.
These four rides make up the sum of the mechanical rides with belt buckles and operators, but there is more. A giant ball pit (larger than any you've seen at Chuck E Cheese), two jumpy castles, a log roll type ride, and even a free range riding area for those cars that you power by twisting the handles back and forth. A big side-by-side double slide at the end of a long wiggly bridge also brings smiles to the faces of most kids.
There is also a black light room and an odd but fun room where you stand against a green wall and wait for a flash which then makes an eerie illuminated shadow on the wall where you were standing.
Rounding out the play arena is a collection of video games, and skill games like Skeeball. These games are not included in the admission price and require the separate purchase of tokens in order to play.
A nice family friendly policy prohibits teenagers and adults without small children which prevents packs of teens "hanging out" and potentially hogging or blocking off other things your kids might want to try.
How Much Does Funtastic Fun Cost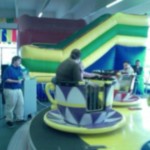 Funtastic Fun charges $11.95 for admission to pretty much all kids, even babies and toddlers. The exception is "babies on their backs." In other words, if you have a baby under a year old, make sure you bring the stroller that has them laying there in order to get them in free, otherwise, they have to pay too.
The price for adults is $2.95 per adult, so a Mom and a Dad will both pay to get in.
All of the rides except for the Whip It allow adults to ride too, so you can ride the Ferris Wheel with your toddler or other young son or daughter. There didn't seem to be a weight limit, and we rode with two adults and two kids in one car, but it was really tight. The cars aren't very big and two adults might be better off splitting up into two cars. The same was true of the train.
Is Funtastic Fun worth it?
Whether or not Funtastic Fun is worth it for your family depends on a few factors. First, there are only four rides, so if you just want to ride rides all day, this might not be the place for you. Second, it can get crowded, especially on weekends and holidays although there are never long lines. Third, this is really a place for children. Even with the video games, teens are likely to get bored fast.
Four kids plus Mom and Dad adds up to $53.70, which is WAY cheaper than Elitches. You do get unlimited rides, and playing on the other things is also free, but video games and Skee-ball are extra.
In the end, Funtastic Fun is a family friendly, fun place to take kids in Denver. It is also a rare treat of an indoor venue where loud, rambunctious, and excited kids are more than welcomed, which can be great after a few days of cold and snow have ratcheted up the cabin fever in the little ones.