The Rocky Mountains are one of the best places to visit in Denver for anyone planning a trip to Denver, even though, technically, the mountains aren't really in Denver.
Denver does sit at an elevation of 5,280 feet, and yet, it technically sits in a valley in an area gently sloping away from the foothills, a 20+ minute drive to the west. And, the mountains, are behind THOSE.
Seeing the Mountains While In Denver
To see the mountains from Denver, Boulder, or any of the cities along the length of I-25, seeing the mountains is as easy as looking west. There they are (if you don't see them, then they're behind that building) rising up out of the plains into a purple / blue / gray / white (depending upon the day) ridge in the sky. But, that isn't what people really mean when they say they want to see the mountains. What Colorado travelers, and Denver visitors, mean when they ask to see the mountains is to be in the mountains.
This, is slightly trickier than it sounds, because being in the mountains actually makes it kind of hard to see the mountains. First, off, that little ridge you see in the front of the mountains is actually what we call the foothills. The real mountains are behind those. Second, when you are in the mountains, there will be what appear to be hills blocking your view of the mountains. Those "hills," of course, ARE the mountains, but they can block that majestic feeling of vast mountain-ness you are going for. Fortunately, there are some great places to really see the mountains and experience the big, wide, huge, TALL mountain feeling you are looking for.
Mount Evans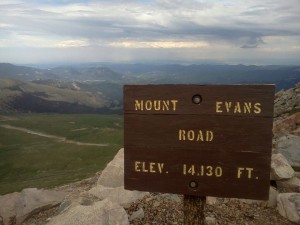 Mount Evans is, among other things, the highest paved road in North America. It is also one of Colorado's 14ers (mountains over 14,000 feet high). It's also a really great way to get friends and family up into the mountains, while satisfying that "I want to see the mountains," wish. The road goes all the way to the top (there's a little hill left to climb if you want to go to the tippy-top), and since it is the tallest mountain around, you get magnificent views of mountains in every direction.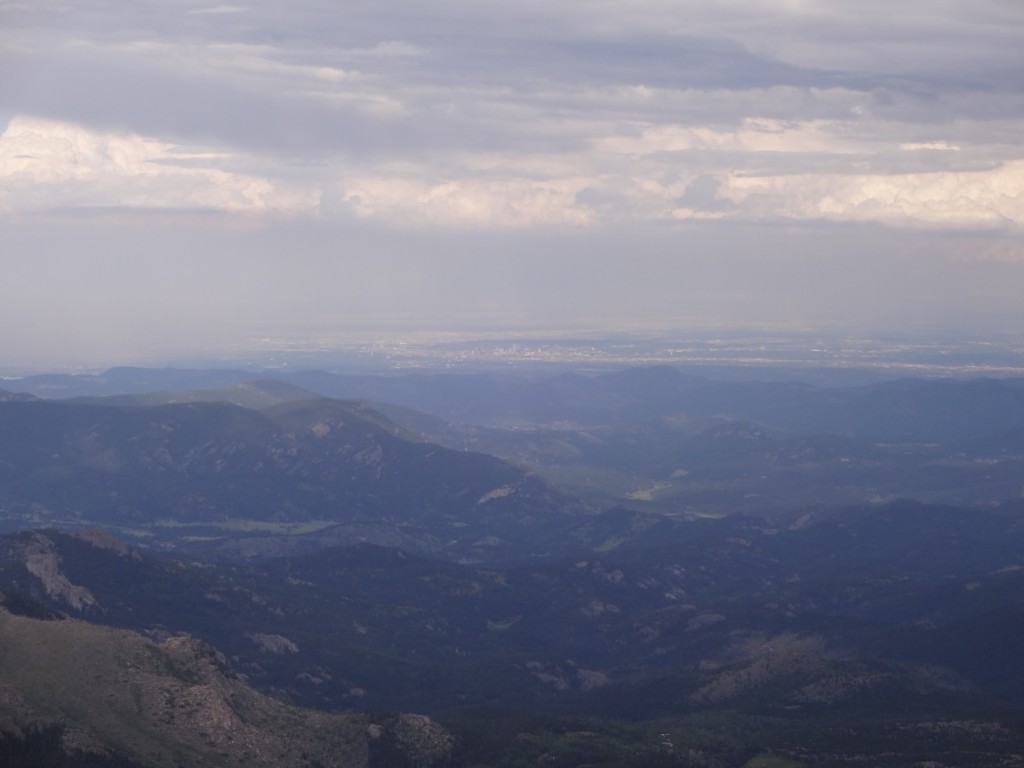 If you're lucky, you may even see wildlife on the road up. Look for mountain goats and deer. Also, around the parking lot, it is common to see, and hear, marmots, which look a lot like beavers, without the special tail. They make a squeaking sound a little bit higher and squeakier than you would expect for their size.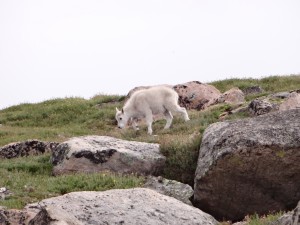 The drive from Denver takes between 90 minutes and 2 hours depending upon traffic and weather. As you might expect, at 14,000 feet, the road closes in the winter once the snow buries it too much to bother plowing out. It usually reopens near the beginning of July. Check the CDOT (Colorado Department of Transportation) road conditions webpage to make sure the road is open if you plan to go in early summer.
In the summer, afternoon thunderstorms are common. Such storms can be dangerous and the clouds will restrict your views, so a morning start is best for this trip.
A similar view and experience can be had from Trail Ridge Road, which is further away up in Rocky Mountain National Park.
Georgetown Railroad Loop
Another great way to see the mountains is a ride on the Georgetown Loop Railroad. Back during the gold rush days, they built a railroad connecting the towns of Georgetown and Silver Plume. This is a lot easier said than done thanks to steep mountainsides. To make the track work, engineers used narrow gauge track and plenty of switchbacks. Also, lucky for us tourists in Colorado today, they built a spectacular bridge over Clear Creek called the Devil's Gate High Bridge that the train still crosses today.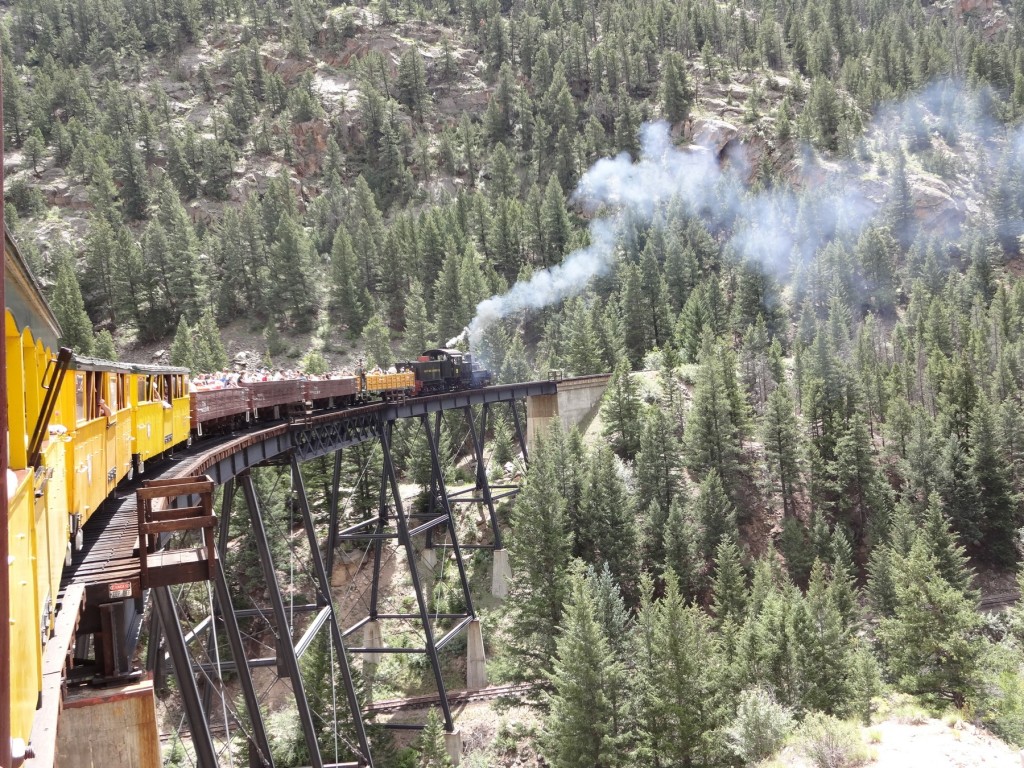 Getting to Georgetown is easy. It sits directly off of I-70 about an hour west of Denver (traffic and weather dependent). There are signs to direct you up to the railroad. The train itself is just a loop from Georgetown to Silver Plume and back. But, on the way, you'll spiral up the mountains without having to take a long hike, and get plenty of great views along the way.
Before or after, stop into Georgetown, a little mountain town with a few shops, and a nice lake just east of town if you want to see a cold, snow fed lake. In Winter, when the ice gets thick enough, they race Jeeps out on the frozen lake.
In town, find the candy shop where they make plenty of homemade sweets including multiple flavors of fudge. Sometimes, they even have Dreamscicle fudge, which tastes exactly like those orange ice cream treats (but not much at all like fudge, so get a chocolaty one too.)
Estes Park
Further away, and up a smaller, curvier, mountain road, than I-70, you'll find Estes Park which is the town that sits on the edge of Rocky Mountain National Park. They have a few great streets of various mountain tourist shops, as well as two year-round Christmas stores. Get off the main drag to follow the river behind town for more mountain views and a rushing river as well. (Extra rushing available in springtime when the snow melts.)
I-70 Scenic Views
If all this sounds like too much, the easiest way to visit the Rocky Mountains is to drive up I-70. Keep going until you find a scenic overlook that looks promising. Roll down your window, and you can get amazing scenic mountain vista shots without even getting out of your car.