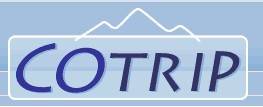 Whether visiting Colorado for a family vacation, staying in Denver for a convention, just driving out to Denver International Airport, or considering a move to the Denver area, one of the most unpredictable elements of life in Colorful Colorado is the current road conditions on major highways, Interstates, and city streets. If Colorado's fast changing weather weren't enough, the state's geography ensures that what is happening in Denver, isn't necessarily anywhere near the same thing that is happening in the foothills, or mountains, or even just twenty miles north or south.
Typically, summer road conditions in Colorado are of limited concern to tourists and residents alike. Although spring thunderstorms and the occasional summertime microburst can cause heavy rains, they are generally short-lived, and confined to a small area. Keep driving, and a few minutes later, the concerning weather is far behind in the rear-view mirror. If it ever does get bad enough, pulling over on the side of the road and waiting five or ten minutes will most likely bring more favorable conditions.
In fact, most Coloradans fear the problems caused by road construction in the Summer much more than those caused by Summer weather.
Colorado's Winter Roads, Denver Snowplows, and Ice
On the other hand, winter driving conditions in and around Denver can range from dangerous whiteouts on slick ice covered streets, to bright sunshine and dry pavement, and that's just in a 40 mile radius! Fast moving weather fronts can mean that driving from Loveland to Denver in the morning on clear, dry roads, will be a distant memory come evening with blowing snow and blizzard conditions on the highways.
Weather forecasts are often no help in this area either. The Rocky Mountains enormous geologic footprint casts an equally long shadow across the world of meteorology. Light storms predicted just the night before can turn into raging winter storms, and forecasted blizzards often turn out to be just a couple of inches of fluffy white snowfall.
Fortunately, the Colorado Department of Transportation, known locally as CDOT (pronounced see – dot) provides road condition updates around Denver and all over Colorado. These updates are broadcast frequently on radio stations around the state.
Even more useful is a website maintained by CDOT and its Intelligent Transportation Systems or ITS branch. Found at www.cotrip.org the COTrip website provide current road conditions, weather maps, drive times around the Denver Metro area and along popular highway and Interstate routes, as well as live traffic information and traffic jam flags. Of course, why take CDOT's word for it when you can see for yourself.
CoTrip has links to dozens of traffic cameras all over the state. There is no need to wonder what things look like near the Eisenhower Tunnel. Just pop over to CoTrip and look at the tunnel's traffic cam. Other traffic cams are setup around the state and there are several dozen Denver traffic cams pointed at both I-25 and I-70, as well as along those numerous city streets that are technically Colorado State Highways.
Make COTrip the starting point for researching current and upcoming driving conditions.